It's the rotary-dial event of the year. The Adworkers Member Party and Live Telethon. This Thursday, January 18th at 6pm at the Pabst Brewery. Go ahead, call the telethon number: 262-938-5422. Featuring special D-list ad celebrities and free food. Members get free tickets and must RSVP HERE. All attending members get the exclusive 2018 UA stocking hat at the membership table.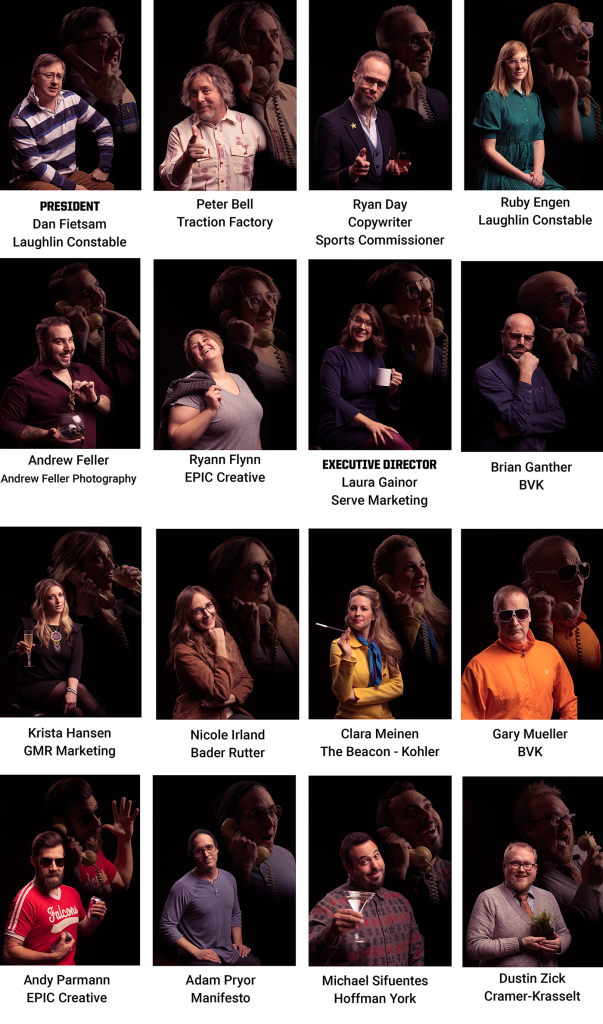 Board Photos taken by Andrew Feller Photography. Art direction by Nicole Irland of Bader Rutter. Andrew's photo taken by interns Alex Wilburn and Delaney Pichotta (see below). 
LETTER FROM THE PRESIDENT – Dan Fietsam, Chief Creative Officer at Laughlin Constable
Welcome to 2018!
Well, the world keeps getting weirder and the ad business keeps getting more complex.
Where we used to discuss vignettes, kerning and fonts now the conversation is dominated by topics like Artificial Intelligence, machine learning, block chains and re-targeting.
It can get overwhelming. But we're here to keep it fun.
Our business, at its core, is still all about people. People working together and coming up with killer ideas. Ideas that that can change our clients' fortunes and alter the trajectory of our respective agencies. It's that simple, and that hard at the same time.
It's this spirit that, as your new Adworkers President, I hope to amplify and keep at the forefront of the Club.
As with previous years, there are plenty of great social activities to mix, mingle, network and, of course, enjoy some adult beverages.
From our Adworkers Live Telethon at the Historic Pabst Brewery (kicking off this week), to the much anticipated start of bowling season, softball, kickball and the golf outing. Lots of fun.
In addition to all the social activities, our goal for 2018 is supplement the fun with career enhancing speakers and seminars. There are a lot of topics we see that can help our members turbo boost their creativity and careers. Stay tuned for some exciting announcements. And if you have any suggestions on topics and/or speakers, feel free to give us a shout.
Additionally, we are committed to attracting the best and brightest judges for the 99s. I have been honored to serve on pretty much every award show jury in our industry, multiple times  – from The One Show, to Cannes, to Communication Arts, et al – so I am excited to bring my extensive judging network and experience to bear here. And, since I am involved with The One Club as well, we are forging connections and complementary activities with them as well.
I would like to thank and acknowledge Joe Sutter for his hard work and leadership for the last two years of the club. He and I have had many conversations about how best to move the club forward. His insight, experience and wisdom has been invaluable as I take these reigns.
I also want to give a shout out to our Executive Director, Laura Gainor. Her dedication to Uniting the Adworkers and to this community is unparalleled. It's not hyperbole to say that without her energy and devotion, the club would not be what it is today.
I look forward to seeing all of you and working to make the club as fun and useful as possible. I'm sure we won't get everything perfect, but I hope you'll see an open mind and collaborative spirit that I will bring to this position. I'm excited and can't wait to see what else 2018 has to offer. Feel free to reach out to me anytime: dfietsam@laughlin.com.
Best,
Dan