July 1, 2010 – Student Branding Society. 7 p.m. EST
Where: Full Sail University, Wimba IMBS_ICB Virtual Classroom – By: Ashley Belanger
Have you ever thought of your own name being a brand name? Although it may not be spelled out on the back of jeans or emblazoned on a NASCAR racer, personal branding allows you to control how your industry sees you. In order to assist students in formulating solid personal brands for themselves and for their businesses, Full Sail's newest online club, the Student Branding Society, invites students to their first official meeting on Thursday, July 1, featuring guest speaker Laura Gainor.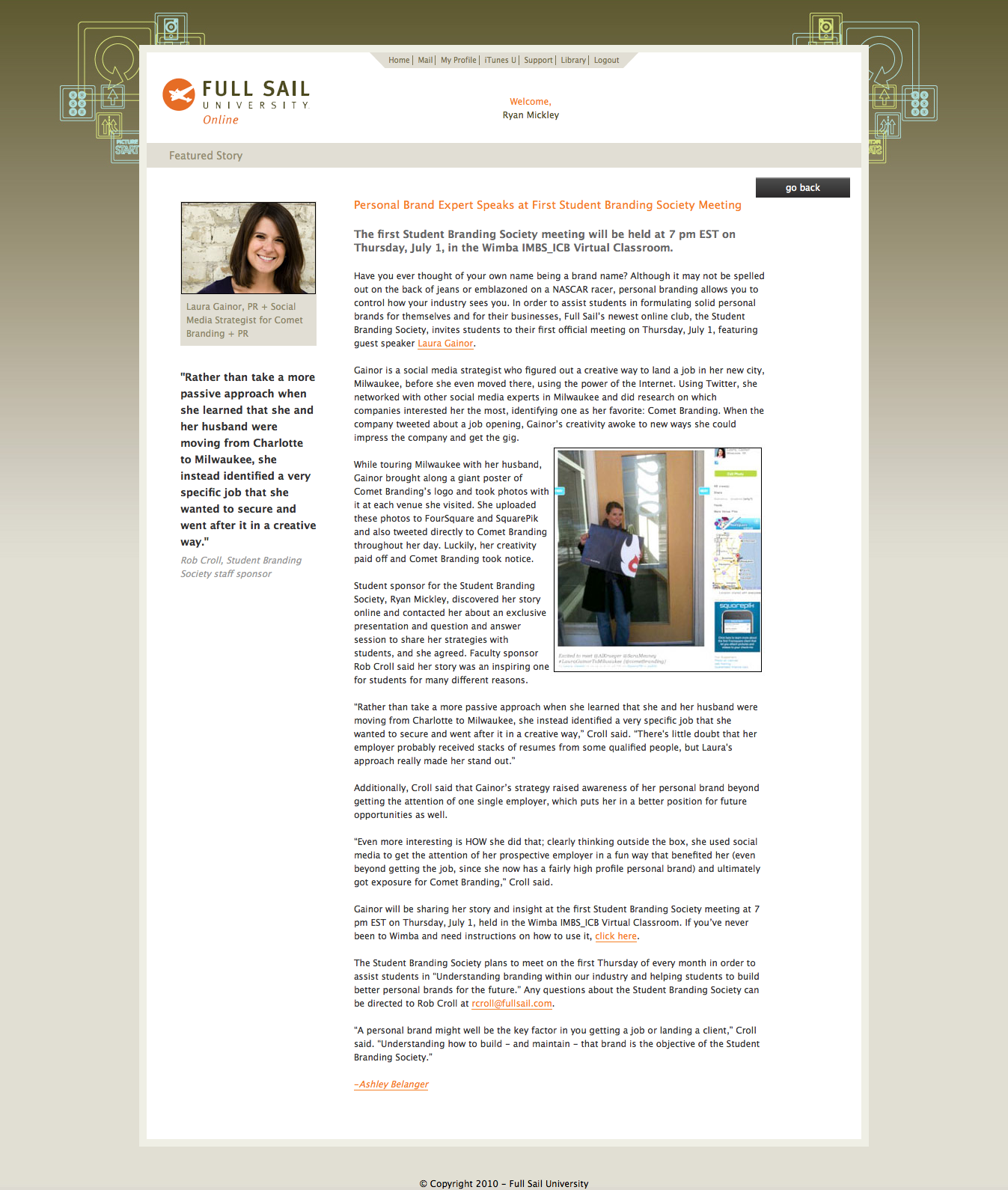 Gainor is a social media strategist who figured out a creative way to land a job in her new city, Milwaukee, before she even moved there, using the power of the internet. Using Twitter, she networked with other social media experts in Milwaukee and did research on which companies interested her the most, identifying one as her favorite: Comet Branding. When the company tweeted about a job opening, Gainor's creativity awoke to new ways she could impress the company and get the gig.
While touring Milwaukee with her husband, Gainor brought along a giant poster of Comet Branding's logo and took photos with it at each venue she visited. She uploaded these photos to Foursquare and SquarePik and also tweeted directly to Comet Branding throughout her day. Luckily, her creativity paid off and Comet Branding took notice.
Student sponsor for the Student Branding Society, Ryan Mickley, discovered her story online and contacted her about an exclusive presentation and question and answer session to share her strategies with students, and she agreed. Faculty sponsor Rob Croll said her story was an inspiring one for students for many different reasons.
"Rather than take a more passive approach when she learned that she and her husband were moving from Charlotte to Milwaukee, she instead identified a very specific job that she wanted to secure and went after it in a creative way," Croll said. "There's little doubt that her employer probably received stacks of resumes from some qualified people, but Laura's approach really made her stand out."
Additionally, Croll said that Gainor's strategy raised awareness of her personal brand beyond getting the attention of one single employer, which puts her in a better position for future opportunities as well.
"Even more interesting is HOW she did that; clearly thinking outside the box, she used social media to get the attention of her prospective employer in a fun way that benefited her (even beyond getting the job, since she now has a fairly high profile personal brand) and ultimately got exposure for Comet Branding," Croll said.
Gainor will be sharing her story and insight at the first Student Branding Society meeting at 7 p.m. EST on Thursday, July 1, held in the Wimba IMBS_ICB Virtual Classroom.
The Student Branding Society plans to meet on the first Thursday of every month in order to assist students in "Understanding branding within our industry and helping students to build better personal brands for the future." Any questions about the Student Branding Society can be directed to Rob Croll at rcroll@fullsail.com.
"A personal brand might well be the key factor in getting you a job or landing a client," Croll said. "Understanding how to build – and maintain – that brand is the objective of the Student Branding Society."